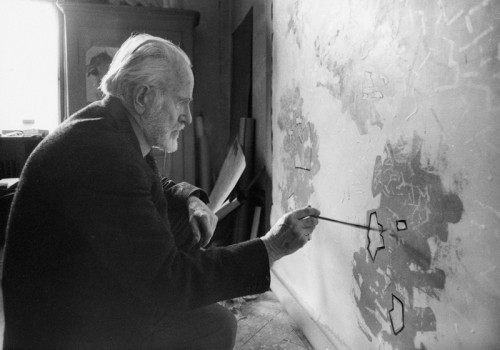 One of the most internationally revered American artists of his time, Mark Tobey (1890-1976) developed a unique style, characterized by metaphysical references, all-over abstraction, and densely calligraphic markings, which proved central to the development of American modernism. His signature style emerged from a sustained inquiry into both Western and Eastern visual traditions and was grounded in an exploration of mindfulness and spirituality, rather than the expressive physicality of his Abstract Expressionist contemporaries.
In 1918 Tobey became a member of the Baha'i community, a religion that teaches the essential value of all religions, whose emphasis on universal consciousness suffused much of his work: "I believe that painting should come through the avenues of meditation rather than the canals of action. Only then can one have a conversation with a painting." His travels to China and Japan in the 1930s, where he studied Zen painting, haiku poetry, and calligraphy, also proved invaluable in his artistic development: "It was there that I got what I call the calligraphic impulse to carry my work on into some new dimensions . . . With this method I found that I could paint the frenetic rhythms of the modern city, the interweaving lights and the streams of people who are entangled in the mesh of this net."
Though his first solo exhibition was held in 1917 at M. Knoedler & Co. in New York, it was a 1944 exhibition at the Willard Gallery and a subsequent 1951 exhibition at the Whitney Museum of American Art that established Tobey as an integral figure in the art world. In 1958 Tobey became the second ever American artist to receive the International Grand Prize for Painting at the XXVIII Venice Biennale.
Today the artist's works are in the collections of the Metropolitan Museum of Art, New York; the Tate Gallery, London; the Museum of Modern Art, New York; the Art Institute of Chicago; and the Musée des beaux-arts de Montréal, among others. He was the subject of a recent retrospective at the Peggy Guggenheim Collection in Venice and the Addison Gallery of American Art in Andover, MA.