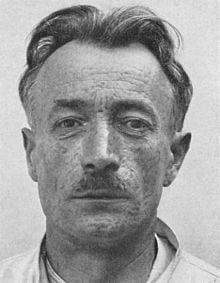 1871
Frantikšek Kupka born on September 23 in Opocno, Austria-Hungary.
1920
Studied at the Prague Art Academy. During this time he painted historical and patriotic themes.
1892
Enrolled at the Akademie der Bildenden Künste, Vienna, where he concentrated on symbolic and allegorical subjects.
1894
Exhibited at the Kunstverein, Vienna. His involvement with theosophy and Eastern philosophy dates from this period.
1896
Settled in Paris; there he attended the Académie Julian briefly and then studied with Jean-Pierre Laurens at the Ecole des Beaux-Arts. Kupka worked as an illustrator of books and posters and, during his early years in Paris, became known for his satirical drawings for newspapers and magazines.
1906
Settled in Puteaux, a suburb of Paris, and that same year exhibited for the first time at the Salon d'Automne. Kupka was deeply impressed by the first Futurist manifesto, published in 1909 in Le Figaro. Kupka's work became increasingly abstract around 1910–11, reflecting his theories of motion, color, and the relationship between music and painting.
1911
Attended meetings of the Puteaux group.
1912
Exhibited at the Salon des Indépendants in the Cubist room, although he did not wish to be identified with any movement.
1913
Completed book, "Creation in the Plastic Arts," which was published in Prague in 1923.
1921
First solo show in Paris was held at Galerie Povolozky.
1931
Became a founding member of Abstraction-Création together with Jean Arp, Albert Gleizes, Jean Hélion, Auguste Herbin, Theo van Doesburg, and Georges Vantongerloo.
1936
Kupka's work was included in the exhibition Cubism and Abstract Art at the Museum of Modern Art, New York, and in an important show with Alphonse Mucha at the Jeu de Paume, Paris.
1946
A retrospective of his work took place at the Galerie S.V.U. Mánes in Prague. That same year Kupka participated in the Salon des Réalités Nouvelles, Paris, where he continued to exhibit regularly until his death.
Early 1950s
Had several solo shows in New York and gained general recognition. Retrospectives were held at the Musée National d'Art Moderne, Paris, in 1958 and at the Solomon R. Guggenheim Museum, New York, in 1975.
1957
Kupka died in Puteaux on June 24.
1958
Retrospective held at the Musée National d'Art Moderne, Paris.
1975
Retrospective held at the Solomon R. Guggenheim Museum, New York.